DAY 10: Loading in Sakaide, Japan
| | |
| --- | --- |
| TIME | 2018-08-29 Wednesday 2200 (UTC+8) |
| LOCATION | SAKAIDE, JAPAN |
| WEATHER | Cloudy, Wind N force 2, +30C /1010 mbar |
Loading was finished in time and we had the opportunity to also host Port State Control (PSC) inspection, which is a fine institution to improve safety at sea. Japanese are known to be very strict on their inspections and therefore I'm very proud that we received clean papers and crew showed their professionalism. I think part of the time they were very interested in LNG-plant as it is a quite rare thing to see. LNG is a growing business in Japan as it is in many other places as well. Pinpointed questions from PSC and other visitors showed that many parties are extremely interested to study the technology.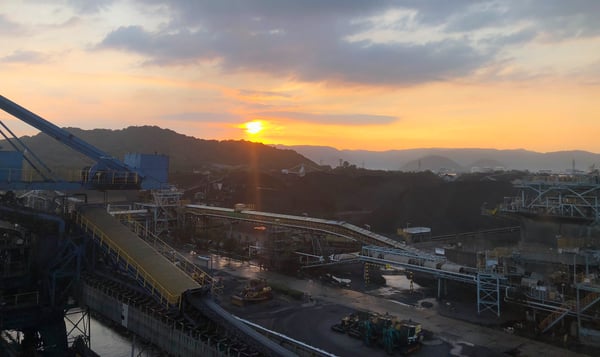 Typhoon forecast has not shown good luck to us. Since the born it first chose the western course but now it has turned towards NNW which means the coast of Japan and Honshu Island where we are at the moment. Another worrying thing is that it seems to gain size all the time. We also installed the Iridium satellite system which is mandatory at north but despite everything was already prepared at the shipyard the equipment appeared to be malfunctioning. This means that we have to wait for a while at anchorage to get the spare one from our sister vessel.

Every captain has their back-office team available. In Helsinki, in addition to crewing and technical departments, there is Operator in charge of arranging voyage information, bunkers, agent services and many other things. With many years of co-operation together with Operations team, they really know our needs. Before starting the discussion about the typhoon, our Operator already advised me that he has arranged enhanced weather routeing service from the Swedish Meteorological Institute. The service with their meteorological professionals is there to support Master on decision making when it comes to hard choices on how to choose the route at the wide ocean and to take the crew and vessel safely back home.

In the evening I had a meeting with the ice advisors. They, as practical guys, had immediately taken the first look to how the ship would work. I was pleased to notice, that they shared the design team's original thoughts of the practical improvements which have been implemented on the vessel. Let's see what they say after Northern Sea Route.