ESL Shipping




Sustainability Report


2022
FOREWORD

Greener shipping through cooperation
To make a real difference for the environment, we need long-term cooperation with our customers and all other stakeholders in the supply chain. In the fight against climate change for a cleaner environment, we all need to work together as one.
Almost all of our emissions are from vessel operations and classified as Scope 1 emissions. On the other hand, these same emissions are Scope 3 emissions for clients. So far, most clients have been focused on their Scope 1 and 2 emissions. The quest to provide carbon-neutral products calls for the decarbonisation of the supply chain as well. Our Customer Portal is designed to provide our clients with clear visibility of the emissions from their shipments and it is delightful to see many of our clients benefiting from the system.
As a ship owner and operator, a significant factor enabling us to deliver cargoes with minimal emissions is flexibility. In situations where the client can be more flexible with shipment sizes and loading windows, this provides us with the ability to better optimise the itineraries of our fleet and therefore, contribute to lower emissions in our clients' supply chain.
One simple measure to reduce emissions and rationalise the way we operate is Virtual Arrival. This has a proven track record to reduce emissions by up to 24 per cent without any investments or price premium to the client. The bunker savings is shared with the client meaning that reducing emissions also saves money in the long-term. A real win-win concept.
The carbon intensity indicator (CII) came into force at the beginning of 2023 and time will tell how it will affect the dynamics of the freight market. Together with the EU Emission Trading coming into force in 2024, only one thing is sure: Cargo owners and shippers need to take more responsibility for the emissions of their shipments. It is in the interest of both the shipping company and the client that a vessel is able to trade as efficiently as possible and retain the best possible level of CII rating. Playing it any other way can result in the lack of suitable vessel capacity.
ESL Shipping strives to retain its leadership in providing the most environmentally friendly shipping solutions to our partner industries. That is why we are now working very intensively on the development of a fossil-free sea transportation ecosystem in line with the green transition and the vessels designed for it in cooperation with our key customers. We also take part in major projects aimed to produce green hydrogen through renewable electricity further processing it as fossil-free fuel for our next-generation vessels. We continue to direct effort towards shaping and modernising the shipping industry in our operating area.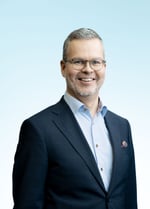 Sincerely,
Mikki Koskinen
Managing Director
Read our PREVIOUS sustainability reports
Latest sustainability news