Year 2022 in review
Year 2022 was characterised on one hand by the recovery from the Covid-19 pandemic and on the other by Russia's invasion into Ukraine.
The war significantly shifted cargo flows globally as companies abandoned Russian origin commodities. The re-routing of the raw material supply out of Russia resulted in increased transportation demand and heavy congestion in certain major contract traffic ports. ESL Shipping was actively assisting customers in the process and in the summer, the company had no remaining transport obligations related to cargo operations from Russian ports or with customers and cargoes related to Russia.
The company's financial performance was excellent, despite the discontinuation of cargo transportation from Russia and related sanctions. ESL Shipping suspended its operations in Russia during the second quarter, after which it no longer had any transportation obligations from Russian ports or for customers and cargoes linked to Russia. The company made record-breaking results each quarter resulting in a turnover of 242.4 MEUR and operating profit of 38.1 MEUR for the whole year. The operating profit rate exceeded the target rate of 14% with a result of 15.5%.
In May, mandatory Covid-testing for seafarers prior to boarding the vessel and other preventive measures were discontinued in light of high vaccination coverage as well as guidelines from Finnish authorities. Some testing was continued according to travel regulations to certain countries. On the shore side, the restrictions applied to working in the office were discontinued with employees strongly encouraged to work remotely if they experienced any symptoms possibly related to Covid-19.
The construction of the first plug-in hybrid vessel for AtoB@C Shipping began in March. During the third quarter, ESL Shipping achieved a major strategic and structural milestone as it established a long-term Green Coaster pool. The pool consists of energy efficient electric hybrid vessels together with a group of institutional and private investors. As a result of the established pool structure, ESL Shipping's subsidiary AtoB@C Shipping increased the total number of ordered vessels to 12 units. Of the series of twelve new-generation plug-in hybrid vessels, every second vessel will be sold to a company formed by a group of investors. The total amount of ESL Shipping's own investment will remain at six vessels worth approximately 70 MEUR.
In addition to the ambitious newbuilding programme, our environmental work continues to progress within the existing fleet. In June 2022, we launched a partnership with Neste to use their co-processed marine gasoil, enabling zero emission sea transports across our existing fleet.
After a full year in use, Virtual Arrival has exceeded our expectations with respect to emission reductions. In applied voyages, it has helped us to reduce emissions on average by 24%, the amount corresponding to approximately the energy usage of 200 Finnish households.
In December 2022, AtoB@C Shipping entered into an agreement to sell the agency business of its Swedish subsidiary NSG Norra Skeppningsgruppen to GAC Sweden. GAC is one of the world's largest providers of ship agency, husbandry and many support services to ship owners and operators. The transaction enables the group to concentrate on its core operations as the leading carrier of dry bulk cargoes in the Baltic Sea region.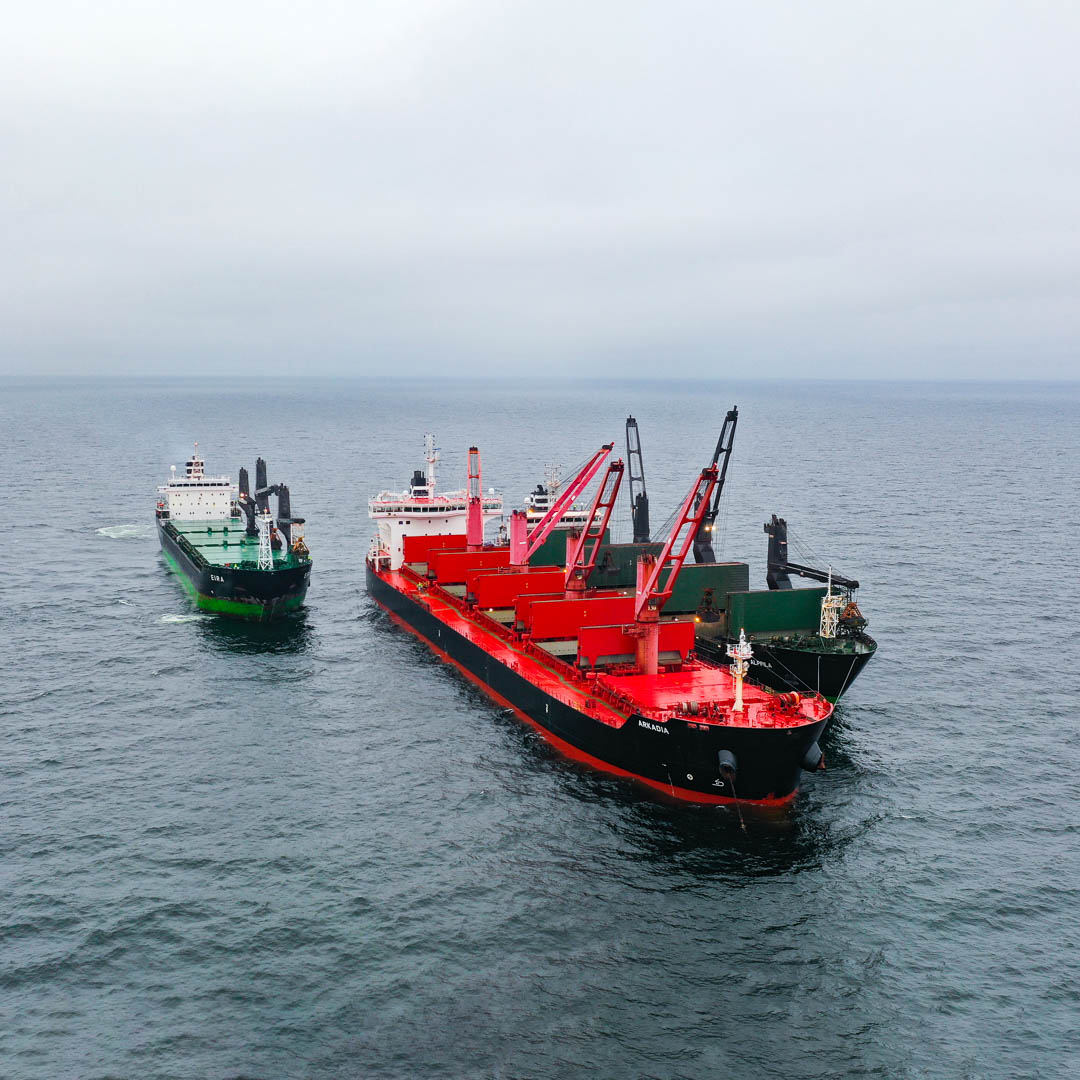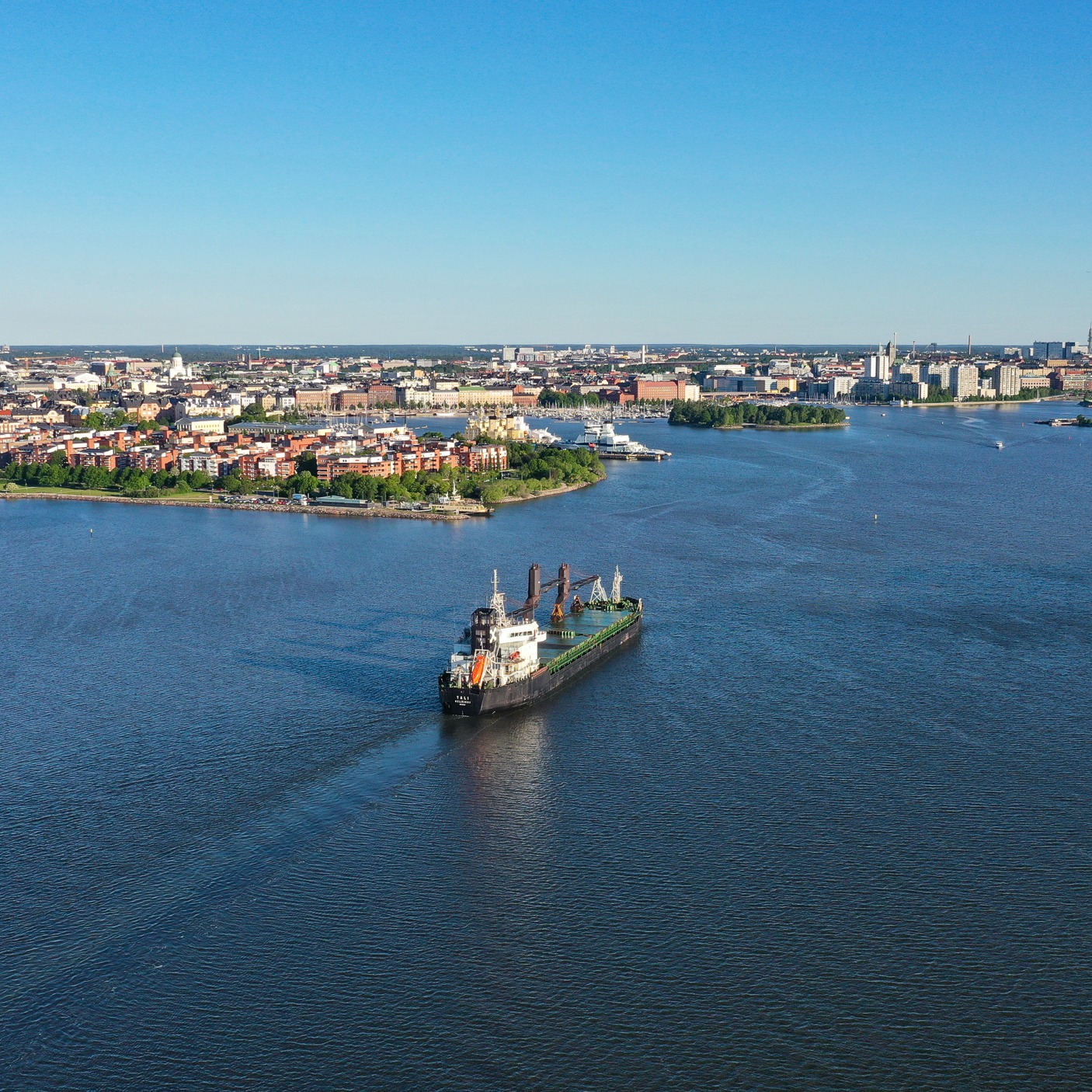 Our sustainability work in 2022
While reducing environmental footprint remains at the core of our ESG work, we are equally committed to improve the experience for people in our value chain and driving sound government practices at all levels.
In 2022, our sustainability work progressed on many fronts. As a significant step towards providing a transparent view to our sustainability work, we completed our first external sustainability performance assessment. The assessment was performed by Ecovadis and resulted in the company receiving a Silver medal and a place among the top eight per cent in our industry. While we are proud of this achievement, we are looking forward to improving our score in 2023.
As a shipping company currently operating around 40 vessels, we recognise that the most important area for us is emissions to the air and sea. Consequently, our most important commitments are 50% lower carbon intensity per ton-mile by 2030 and net zero CO2 emission operations by 2050. You can read more about our environmental performance here.
We are committed to transparently reporting our emissions data to our customers and stakeholders through our sustainability reports and Customer Portal. In the Customer Portal, our clients can view the environmental and operational metrics related to the transportation of their goods.
In 2023, we continue to develop the functionality of the portal as well as the backend of the portal to provide more accurate reporting at any given time. In practice, this means that the accuracy of the reporting will be enhanced from voyage level to single sea leg level. This will enable the accurate calculation and allocation of emissions and other data for multi cargo voyages.
While reducing our environmental footprint remains one of the most significant areas of our ESG work, we are equally committed to improving the experience for people in our value chain. This includes taking care of our employee's wellbeing and safety as well as maintaining and improving customer experience.
In late April, we launched a mobile intranet for our seafarers making it possible for them to access important information such as company news, announcements and HR information through an easy, mobile optimised interface.
In the fourth quarter, we took into use a new platform to collect and analyse all sustainability related data. The new platform will also prepare the company for the external verification of sustainability related data in the coming years.
Our roadmap towards fossil-free shipping
Firstly, ensuring that we have access to the best available ship design and power train capable of shifting to drop-in fossil free fuels when they are available. Prime examples of this are the order of twelve 5,350 dwt hybrid coasters equipped with battery packs and shore power connection as well as the world's first LNG-powered bulk carriers Viikki and Haaga.
Secondly, we need to build industrial scale availability of renewable fuels in partnership with leading Scandinavian suppliers. In June 2022, we announced that we entered into an agreement with Finnish fuel supplier Neste for the supply of new co-processed marine fuel oil, which enables up to 80 percent reduction in lifecycle carbon dioxide emissions. In April, we announced that we joined BotniaLink H2 project as the first customer-side stakeholder. The project aims to establish an e-fuel hub in Luleå for the production of hydrogen-based fuels for large ships.
Thirdly, we need customers who share a common future vision and interest in low emission shipping. Over time we have worked with many great companies such as SSAB to introduce LNG-powered Viikki and Haaga, which almost halved emissions between Luleå, Oxelösund and Raahe. Furthermore, SSAB and the Port of Oxelösund have played an integral part in the launch of Virtual Arrival, which has enabled a 25% reduction in CO2-emissions in applied voyages between Luleå and Oxelösund.