ENVIRONMENT
ENVIRONMENT
A ship is the most environmentally friendly alternative for transporting large quantities of cargo.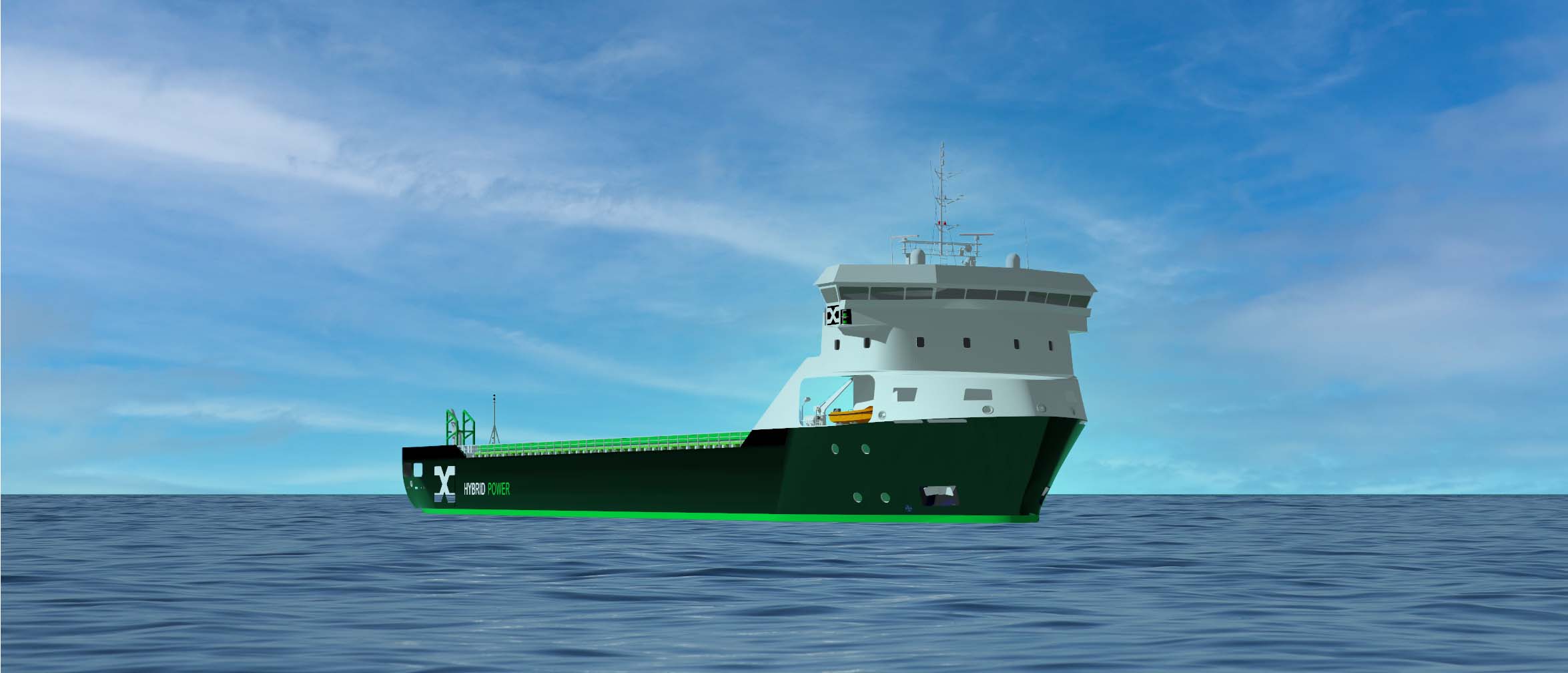 Our target is net zero emissions by 2050
Growing our business while lowering the pressure on the environment is our key focus in the coming decades.
In December 2021, we published our first ESG targets demonstrating our ambition to be the industry forerunner in sustainability. Our goal is to be a pioneer in technological solutions, sustainability and quality of service. Sustainability and reducing our footprint has been in the core of our business and we have openly reported our progress in the annual sustainability report published since 2017.
Strategy work was conducted together with consultancy firm Deloitte. An important part of the process was to collect data from our stakeholders and ensure, that we focus on issues relevant to our stakeholders. As a result of stakeholder survey and interviews, we were able to determine material topics and areas that our stakeholders felt important.
As a shipping company currently operating around 50 vessels, we recognise that the most important area for us is emissions to the air and sea. Consequently, our most important commitments are 50% lower carbon intensity per ton-mile by 2030 and net zero CO2 emission operations by 2050.
OUR ROADMAP TOWARDS FOSSIL-FREE SHIPPING
Firstly, we need best available ship design and power train capable of shifting to drop-in fossil free fuels when they are available. Prime examples of this are the recent order of six 5,350 dwt hybrid vessels equipped with battery packs and shore power connection as well as the world's first LNG-powered bulk carriers Viikki and Haaga.
Secondly, we need to build industrial scale availability of renewable fuels in partnership with leading Scandinavian suppliers. Therefore, we are participating in projects aimed at industrial scale production of hydrogen based e-fuels in second half of the decade.
Thirdly, we need customers who share a common future vision for low emission shipping. Here we have worked for example with SSAB to introduce Viikki and Haaga which almost halved emissions between Luleå, Oxelösund and Raahe. While reducing environmental footprint remains the most significant area for our ESG work, we are equally committed to improve the experience for people in our value chain. This includes both taking care of our employee's wellbeing and safety as well as maintaining and improving customer experience.
In 2022, we will continue developing our sustainability program and reporting tools for both internal and external use. As a way to engage the whole personnel to the work for the common goals, ESG-targets become a part of our incentive system from 2022 onwards.
OUR KEY ESG TARGETS AND SDGS
We are committed to United Nation's Sustainable Development Goals (SDGs). Based on our strategy work and our targets, we have determined the most relevant SDGs where we can contribute.

We provide a safe and healthy place to work
Our primary focus is safety of our people

We treat everyone equally
We conduct ethically in line with applicable law and standards and expect the same from our counterparties

-50% of CO2 by 2030, net zero operations by 2050

We work with the ports to minimise the amount of grey water and hold washing water to the sea

We provide first-class service to our customers
Energy efficiency is improving step by step
Virtual Arrival changes the traditional way of working and provides an opportunity to reduce emissions
Due to the fast turnaround in the market from very low activity to almost overheating, we were not able to reach our target of reducing emissions from 2019 to 2021. However, emissions remained at the same level as in 2019 before the pandemic. Distance sailed increased by 3.8% but total emissions only 1.7%. After a very difficult 2020, year 2021 consisted of high market activity and lack of available capacity. These factors resulted in higher sailing speeds and therefore higher consumption than expected in the beginning of the year.
One important initiative to change the present way of working and to reduce GHG emissions is Virtual Arrival. The first trial started in July in cooperation with SSAB and the Port of Oxelösund. So far, the results have been positive and Virtual Arrival has decreased emissions by 18% per voyage where Virtual Arrival has been applied. On AtoB@C Shipping's side, the concept has been trialled with one core customer and the aim is to engage more customers with the concept and to make it a routine practice.
In Northern Europe, there continues to be considerable growth in interest among customers for environmentally friendly maritime transport that produces as low carbon emissions as possible. In addition to ESL Shipping's investments in new highly environmentally friendly vessels, the shipping company is preparing long-term cooperation with leading energy suppliers to provide sea transportation with even lower carbon emissions, and even fossil-free transportation, in the future.
During 2022, three larger and four smaller vessel units will be docked for approximately one hundred days. After these dockages, all vessels owned by ESL Shipping will be equipped with ballast water treatment systems that meet new environmental regulations.
Minimal methane slip from Viikki and Haaga
Methane slip from LNG-engines has been in the headlines of Finnish press as the global warming potential of methane is 25 times higher than that of carbon dioxide. LNG is an important intermediate fuel in the journey towards zero emission shipping as it reduces CO2-emissions by 21-28% compared to conventional marine fuels. In addition, it has virtually no sulphur oxide or particulate matter (PM) emissions and significantly lower nitrogen oxide emissions compared to fuel oils.
Our LNG-powered vessels Viikki and Haaga are equipped with high-pressure 2-stroke main engines manufactured by STX MAN. The operational principle of the engine is based on a diesel process meaning that the high-pressure gas is injected into a cylinder after the ignition with the pilot fuel. This enables minimal methane slip which was one of the key factors when choosing the main engine for the vessel.
The minimal methane slip of Viikki and Haaga has been confirmed in two separate studies:
The Finnish Meteorological Institute1 has investigated in methane slip on the island of Utö by measuring the methane content in the air. According to the measurements, low-pressure engines, widely used in LNG ships, released a lot of methane into the air, as given in this type of engine some of the methane remains unburned. An exception was made by Viikki and Haaga, as these ships have high-pressure 2-stroke main engine, which are rather rare on ships.
In the autumn of 2019 measurements were conducted onboard Haaga to determine the actual methane emissions of the vessel. Measurement equipment was installed in the main engine exhaust pipe measuring carbon dioxide (CO2), methane (CH4), carbon monoxide (CO), nitric oxide (NO) and nitrogen dioxide (NO2) emissions. Onboard measurements proved that there was practically no methane emissions from the engine.

1) Evaluation of Methane Emissions Originating from LNG Ships Based on the Measurements at a Remote Marine Station. Tiia Grönholm, Timo Mäkelä, Juha Hatakka, Jukka-Pekka Jalkanen, Joel Kuula, Tuomas Laurila, Lauri Laakso, and Jaakko Kukkonen. Environmental Science & Technology 2021 55 (20), 13677-13686
New regulations shape shipping
While we support initiatives to reduce GHG emissions from shipping, it is crucial that the regulations are worldwide and sailing in ice conditions is taken into account.
There are currently several initiatives for greenhouse gas (GHG) reduction regulations but with the present scope, they are only applicable to ships over 5,000 GT except EEXI. This means that the current AtoB@C Shipping fleet is excluded. Below is a very short overview of some of the initiatives:
EU EMISSIONS TRADING SYSTEM (ETS) TO INCLUDE SHIPPING (2023-)
As from 2023, ships presently reporting emissions under the EU MRV regulation are required to purchase CO2 emission credits. The system includes all intra EU-voyages and 50% of the emissions for voyages, which arrive or depart from EU ports. ETS is expected to increase energy cost between 30-100% assuming that the emission allowance price is 50-200 EUR per ton of CO2e.
During 2021, ESL Shipping has been developing an extranet where our clients can access the emission data of their shipments. The planned launch for the extranet is during the first half of 2022.
SHIP-SPECIFIC CARBON INTENSITY INDICATOR (CII) (2023-)
CII measures how efficiently a ship transports goods and is given in grams of CO2 emitted per cargo-carrying capacity and nautical mile. Each vessel is given a rating from A to E with all vessels required to reach a C-level. If the rating is lower, the owner is required to present an approved corrective action plan. The rating thresholds will become increasingly stringent towards 2030.
Vessel ratings can be improved by increasing energy efficiency and usage of low carbon fuels. Currently all our vessels reach a rating of A to C except our supramaxes. For Arkadia and Kumpula we will limit their engine power in order to reach acceptable rating. CII is based on IMO's Data Collection System (DCS) data, which means that only vessels over 5,000 GT are included. In practice, this means that European coaster trade including AtoB@C Shipping's fleet is excluded.
ENERGY EFFICIENCY EXISTING SHIP INDEX (EEXI) (2023-)
From 2023, all vessels with GT over 400 must fall below certain threshold of CO2-emissions per cargo capacity. EEXI is a theoretical value which measures vessels CO2-emissions per transport work based on vessel's design parameters (size and service speed) and is similar to Energy Efficiency Design Index (EEDI) for newbuildings. Calculated EEXI is then compared to the reference line defined by the International Maritime Organization and if the value is below the reference line, the vessel is compliant.
Our way to meet the requirements is to limit the engine power on our supramax vessels Arkadia and Kumpula. Other alternatives to improve vessel's EEXI include battery technology, waste heat recovery systems, air lubrication of the hull, wind propulsion and fossil-free fuels (see our Sustainability Report 2020 to learn more about different fuel alternatives).
FUEL EU MARITIME (2025-)
This will impose life cycle GHG footprint requirements on the energy used onboard. The regulation applies to the same vessels as MRV regulation and takes into account methane and nitrous oxide emissions as well. Over time this will limit the maximum carbon intensity of marine fuels used in Europe. Successful adaption to the regulation require growing use of renewable diesel, biogas or other low carbon fuels.
New electric hybrid coasters reduce emissions by 50%
In September 2021, AtoB@C Shipping ordered six 5,350 dwt battery hybrid vessels for delivery from 2023 onwards. The new vessels will be market leaders in terms of cargo capacity, technology and innovation. Ice class 1A vessels are equipped with battery technology and shore power connection which enable emission-free and noise-free port visits.
Record year of dockings for ESL Shipping
In 2021, ESL Shipping made major investments in maintenance and environmental upgrades to its fleet. In all dockings, ballast water treatment systems were installed onboard.
"This year has been extremely busy for our technical team when docking the whole handy fleet, except for Kumpula and Pasila. Dockings were carried out in Finland, Estonia, Denmark and Turkey", comments Technical Director Janne Eklöf.
Our LNG-powered 25,000-tonners Viikki and Haaga were dry-docked for the first time since their delivery in autumn 2018. In addition to the normal docking works, service was carried out to the fuel gas supply system, which required more careful planning due to cryogenic work.
"Bunkering was planned together with the Operations department so that the LNG tank was almost empty on arrival to the shipyard. Before the start of the maintenance, the system was warmed up and made gas-free. After the maintenance was completed, the LNG storage tank was cooled down to approximately -160 degrees. The process for gas freeing and cooling down of the LNG storage tank is both time consuming and a challenge for keeping the tight docking schedules", explains Eklöf.
LABOUR INTENSIVE REPAIRS IN OLDER TONNAGE
During the year all three 20,000-tonners and one 13,000-tonner were docked for BWTS retrofit and routine maintenance. Repairs were focused on surface treatment in cargo holds, hatch cover repairs and maintenance of cargo cranes to ensure smooth cargo operations.
Docking of Kallio included extensive steelworks in cargo holds where large parts of worn cargo hold bulkhead plating were renewed. Altogether, 120 tons of steel was replaced and about 2,000 metres of the new welding seam was welded. Painting works included 10,000 square metres of cargo hold walls and ballast water tanks.
Tali's docking included extensive repairs to the cargo cranes. Given the intensive use of the cranes, it was necessary to replace the whole crane foundation for two of the cranes.
Arkadia was docked just before Christmas in Turkey and completed in January. Extensive surface treatment of cargo holds was performed, resulting in the painting of almost 17,000 m2 of cargo holds alone. Class renewal and routine maintenance were performed during the drydocking, including the renewal of the sewage treatment unit.
PUSHERS AND BARGES
During the summer, the pusher barge system was also drydocked for maintenance and installation of ballast water treatment systems. Due to their unique design and large ballast water capacity, the work was challenging. While in conventional vessels the space is often the issue, the biggest issue with barges was the size of the parts due to the ballast capacity of 2,000 cubic metres per hour.
As the most visible sign to the outsiders, the vessels' topsides were fully blasted and painted according to company colours with the green underwater hull. Steelworks were done in the cargo holds to replace worn parts of the bulkheads.
237,621
tons CO2 in total
Target 2050: Net zero CO
2
emission operations
15.74

CO2-emissions
grams per ton-mile
Target 2030: 50% lower carbon intensity per ton-mile compared to 2008 and respective vessel class
0%
Grey water pumped to shore
Target: 50% by 2025 and 100% by 2050