ENVIRONMENT
ENVIRONMENT
A ship is the most environmentally friendly alternative for transporting large quantities of cargo.
Read the full report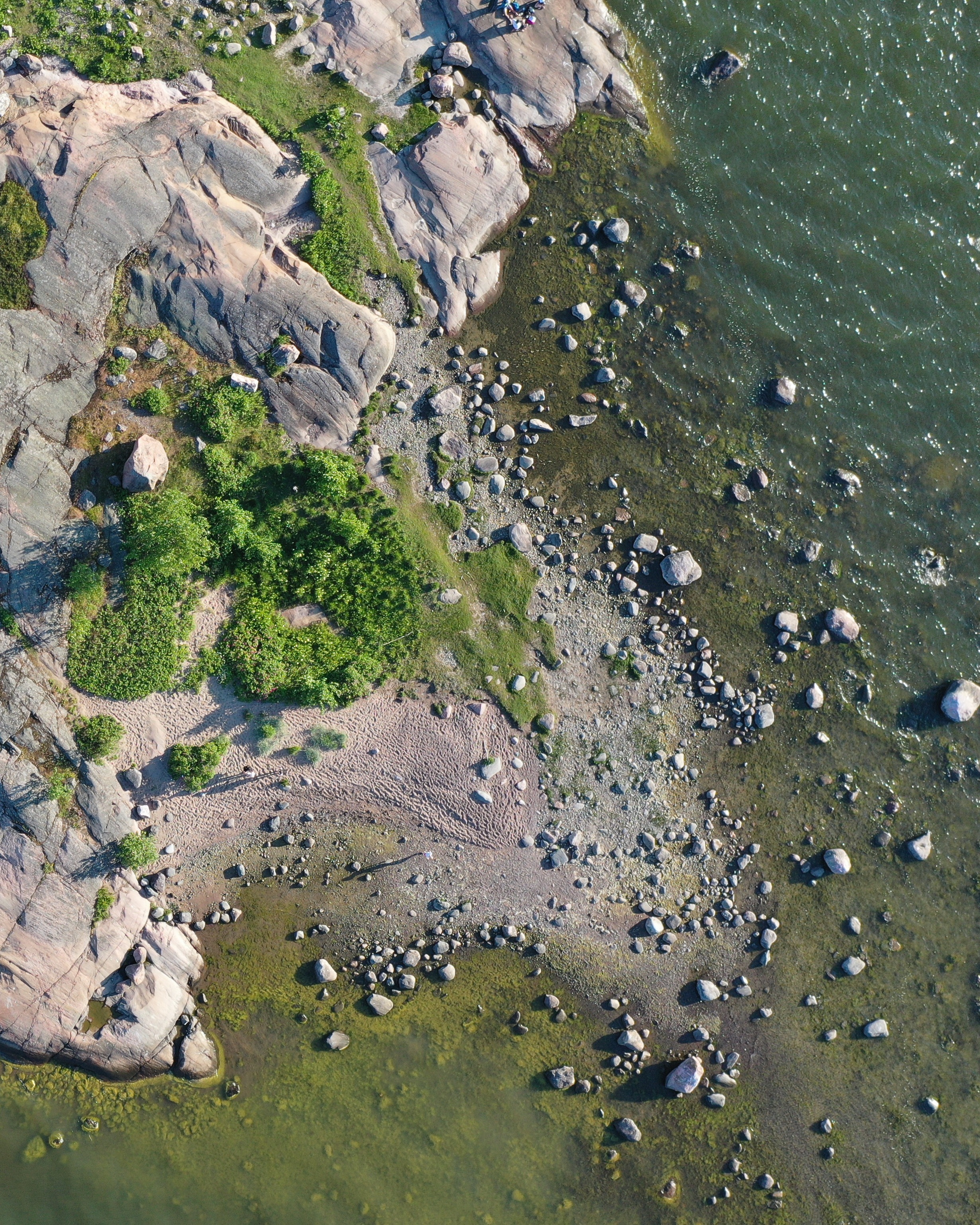 Reporting as a base for emission reduction targets
New operating system enables better reporting of emissions to the customers. Difference in reporting requirements from EU and IMO results in challenges when comparing emissions of a certain vessel.
A ship is the most environmentally friendly alternative for transporting large quantities of cargo. For instance, one Eira-class vessel is the equivalent of around 1,100 trucks with cargo capacity of 18 tons. Over 90% of the world's trade is carried for sea and international vessel traffic which accounts for 2.6% of global emissions. Sea transportation is vital for Finland and Sweden which are the group's crucial market areas. Around 90% of the imports and exports from both countries is carried by sea.

As a result of the acquisition of AtoB@C Shipping we now have a large number of smaller vessels in our fleet. The smaller vessels consume more energy for the same transport work. The consumption per cargo ton transported with a coaster is on average three times higher than on our LNG-powered vessels Viikki and Haaga.

At the moment, the vessels' emissions are reported to two different systems: EU-led MRV and international, IMO-led DCS. The main difference is that MRV takes into account the voyages to and from EU-ports regardless of the vessel's flag while IMO DCS takes into account all voyages of the vessel. In MRV-reporting, consumption at anchorage and at the port are excluded while IMO DCS takes into account those as well. ESL Shipping is responsible for reporting these figures for our own vessels.

In 2020, emissions were reduced significantly due to two reasons. Firstly, the global limit for sulphur was decreased to 0.5%, which had a clear impact on sulphur emissions of the supramax vessels. In the group's main trading area in Northern Europe and the Baltic Sea, the sulphur limit was previously 0.1% since 2015 and therefore, the effect on the other vessel classes was small. The second factor contributing to lower emissions was the lay-up of a couple of vessels at ESL Shipping during the spring and summer. As a result, the CO2-emissions were reduced by 7.2% and SOx-emissions by 68.5%.

Emissions of 3,000-6,000 dwt vessels are not reported to MRV or DCS. In order to achieve a comprehensive picture of the group's environmental footprint, we have calculated the emissions of these vessels as well and they are included in the figures presented in this report. Given the new operations system, we are now able to provide more detailed emissions reporting to our customers.

It is noteworthy that MRV figures take into account the weight of the cargo which results in poor figures when lightweight cargoes which fill up the hold are carried. These cargoes include for example project cargoes, wood pellets and some steel products such as pipes.

One of the easiest ways to decrease carbon footprint is the use of bigger ships and to slow down their speed. However, it must be recognized that this is not possible for all of our clients and industries due to lot sizes and restrictions in harbours. Smaller parcels will be shipped and small vessels will be trading also in the future. Therefore, it is important that we try to implement more efficient environmental technologies for the future generations of coaster vessels.
Alternative fuels
We are actively developing the most effective and environmentally friendly future transportation solutions. Choosing the correct fuel for the vessels in an era of stricter environmental regulations is one of the most important topics we are working on.
There are many areas to consider when we think of environmentally superior vessel design. Part of this work is to find optimal dimensions and hydrodynamic solutions to minimise the resistance in the water. Another key area we are actively looking into is the fuel options we have at the moment and what we could have in the coming years. A vessel will easily trade around 30 years and therefore the choices we make today we have to live with quite a while.

So far we have introduced two liquefied natural gas powered bulk carriers, 25,500 dwt Viikki and Haaga. The use of LNG as a main fuel in main and auxiliary engines reduces carbon dioxide emissions by over 50% compared to the previous generation of vessels. The benefit of LNG machinery is that it is possible to use liquefied biogas (LBG) which will reduce the vessel's emissions even more. The availability of LNG has increased significantly in our operating region and the additional storage space needed onboard is bearable.

Another promising alternative fuel is methanol provided it is produced from renewable sources. At the moment methanol is mainly produced from natural gas, but it is also possible to use renewable sources for production such as biomass and recycled carbon dioxide. Compared to conventional fuels, methanol requires over twice as much storage space onboard due to the low density of energy but on the other hand, storage is easy and existing tank space can be converted to methanol tanks. Certain engines can be converted to use methanol but extensive modifications are needed. Methanol is also biodegradable.

Yet to be seen alternatives are hydrogen and ammonia. The main challenge with ammonia is that it is highly toxic and together with hydrogen has low energy density. Both hydrogen and ammonia are produced today from fossil fuels but there are several initiatives for so-called power-to-x technologies where hydrogen is produced from water and carbon dioxide by using electricity produced from renewable sources such as wind and solar power.

At the same time, we should not forget that it is possible to provide fossil free transports to customers already today by using biodiesel or LBG in the existing fleet. The main limitation for wider use in shipping is the low availability of such fuels due to the high demand in other sectors as well.

Besides, there are options to reduce the energy consumption onboard by various measures which are yet to be tested in our fleet. These solutions include battery packs onboard which could be used to optimise engine loads and to shave peak consumption like in hybrid cars. Battery packs could also provide an emission-free stay in port when auxiliary engines are turned off.
There are also several commercial solutions for the use of wind to cut consumption. The solutions vary from rotor sails to metal sails and kites. Some studies show that rotor sail can reduce fuel consumption up to 20% when the trading pattern is favourable.
More efficient pilotage
Currently, in both Finland and Sweden, initiatives have been launched to investigate the possibilities of remote pilotage which means that instead of boarding a vessel, pilots would advise the vessel's from land. In 2020, ESL Shipping actively participated in two remote pilotage projects by providing a platform to test and develop technical systems and human procedures for safe and efficient passages through the archipelago and approaches for Helsinki, Finland and Oxelösund, Sweden.

The Finnish project had a wide range of stakeholders and the remote pilotage was part of the Sea4Value program where Future Fairway Navigation includes also many instruments and data delivered by Smart Fairway Solutions.
The project in Sweden is managed by the Swedish Maritime Administration, where several test pilotages have been conducted on ESL Shipping group vessels. The Swedish system is based on a synchronized passage plan in and outbound to and from the Port of Oxelösund by providing and entering pre-defined list of waypoints on the ships navigation system and testing the procedures, interfaces and communication between the ships navigation team and the control center ashore under the surveillance of the pilot onboard.


PECs: Own pilot onboard
Both in Finland and Sweden it is also possible for the Master to get a pilot exemption certificate (PEC) for a specific fairway with a certain vessel. However, this process is not easy, and requires a lot of self-studying from the applicant. We spoke with Captain Juuso Karjalainen about what it takes to get a PEC in Finland and Sweden. Karjalainen, 31, works as the Master of pusher Rautaruukki and has previously worked as the Chief Officer and Master on pushers and as the Chief Officer on m/s Pasila.
In Finland, applicants need to first complete ten voyages for each direction in the fairway before a written exam. The applicant has to also complete a simulator voyage before one can apply for a real-life exam, where the applicant navigates through the fairway under supervision of the inspector. After a successful test voyage, the pilot exemption certificate is granted.
In Sweden, three trips and the information voyage with the pilot is required. In the exam, the applicant has to draw the fairway in question to the blank sea chart including all relevant terms and aspects for safe navigation such as buoys, fairway depths and shallow areas.
Having captains with PEC is beneficial for all parties, explains Karjalainen: "Usually the pilot needs to be ordered and confirmed two to five hours before departure or arrival. With PEC, we are not restricted to the availability of pilots or the order windows. Sometimes, the hour or two we can save with PEC can make a big difference for the vessel's schedule".
Virtual arrival
In shipping, vessels are usually scheduled to meet certain arrival times at a port in order to start time counting whether the berth is actually free on arrival or not. If the assigned berth is not free, the vessel will drop anchor on arrival and tender notice from the roads. In other words, the vessel will sail the whole passage with normal speed even though it is known that there will be delays at berthing.
With the close cooperation with core customers, we are now testing Virtual arrival which means that together with the Charterer we can agree to reduce the vessel's speed to meet a revised arrival time when there is a known delay at the port. By reducing the vessel's speed, it is also possible to reduce the consumption and consequently CO2-emissions and congestion in the port and anchorage area when the vessel is able to enter the port directly on arrival.
Afterwards the difference between the consumption on normal speed and actual consumption as a result of Virtual Arrival is compared and the savings are shared between us and the customer.
-6.1 %
Total fuel consumption
-85%
Emissions reduction when using biogas (LBG)